How To Use Color And Texture To Enhance Your Interior Design?
The color and texture of your home can make a huge impact on your day-to-day life. Colors affect everything from our mood to our productivity, so it's important to make sure that you're using the right ones in the right places. Today, we're going to share with you with the help of Interior Designers in Ahmedabad how you can use color and texture in our own homes!
Use complementary colors to create a peaceful space.
Complementary colors are colors that are opposite each other on the color wheel. Red and green, blue and orange, purple and yellow are all examples of complementary colors.
Complementary colors can be used to create a peaceful space by using them in small doses throughout your interior design pieces. Using too many complementary pieces will make your room feel too busy or overwhelming, so try using one or two items with these hues in them instead of decorating an entire wall with them (unless you want it to look like Christmas).
Use colors that relate to each other for a cohesive look.
A cohesive design should have all the elements working together, so it's important to choose colors in the same color family. This will give your room a sense of harmony and balance, rather than making it look like you threw things together without thinking about how they would work together.
The key here is balance: while there are no hard-and-fast rules when it comes to using multiple shades of one hue, be sure not to go overboard by using too many different hues at once–it can make your space feel chaotic and unbalanced!
Another way this rule applies is when choosing accent pieces such as furniture or artwork; try pairing them with complementary shades rather than contrasting ones (though contrast can be great if used sparingly). For example, if you're painting an armchair that has orange fabric upholstery with red trimming along its seams and buttons (like we did above), consider adding some green into its surroundings so that all these bright colors aren't competing against each other visually.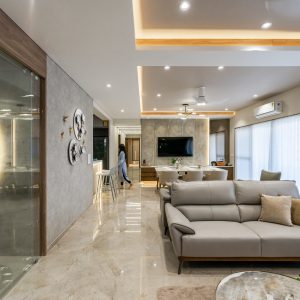 Change up your walls to create a focal point in the room.
Use a bold color on one wall. This can be done with paint or wallpaper, but if you choose to use paint, make sure that it's not a dark shade like black or navy blue. Those colors will make the room seem smaller and more crowded than it actually is. Instead, try using something like fuchsia or lime green for a fun pop of color in your space!
Go for patterned wallpaper instead of solid colors if you're looking to add some more visual interest to your walls without making them feel too busy. If you're worried about how much maintenance it'll take (or whether or not this type of wallpaper will last), we recommend sticking with organic patterns–ones that look like they were painted directly onto the wall rather than printed on paper first–rather than geometric ones because they tend not fade over time as easily due to their natural origins (i.e., they were created by nature).

Another option would be opting for large pieces instead: They'll give off an impression similar enough while still giving off vibes of luxury since they usually require more labor than standard sized ones do when installing them onto surfaces such as drywall/plasterboard etcetera.
Some tips on using color and texture in interior design
When it comes to interior design, color and texture are two of the most important tools you have at your disposal so make sure you hire the right interior designers in Ahmedabad. They can be used in tandem or separately to create a number of different effects in your space. Here are some tips for using them:
Use texture to add depth and interest to your design – Textures help create a sense of dimension in any room by adding visual interest through contrast between flat surfaces (such as walls) and textured ones (like wood). They also make rooms appear larger because they provide something for the eye to focus on besides bare walls or floors.

Use texture to add warmth and comfort – Textures like wood add an organic feel that's welcoming for both guests and homeowners alike.
Conclusion
The best way to use color and texture in your interior design is by being creative and experimenting. Don't be afraid to try new things. Choose the best skilled interior designer firm like Shayona Consultants. We are one of the most established architectural and interior practices and deliver innovative design solutions for a wide range of developments through our multidisciplinary expertise in the field of Architecture and Interiors.